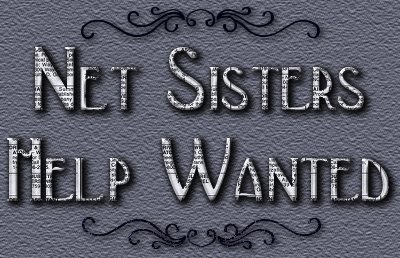 If you are looking to get more involved with Net Sisters you have come to the right place!! Below you will find a listing of all the "jobs" that are currently availble and a brief description of the duties. If you find something that you are interested in, simply click on the "Apply" button, and send a letter to the Committee leader. You will be contacted shortly.

The Birthday Committee

Pagemakers
Description: Sisters who love making simple webpages are desparately needed to make pages for sisters birthdays and anniversaries.

PageSigners
Description: Sisters who love signing guestbooks are needed to sign each birthday and anniversary guestbook created by the pagemakers and to send out cards to sisters celebrating other special days.

The LifeStyles Committee

[3] Rubies & [4] Silvers
Description: Looking for rubies and silvers for various duties. Please email LDWMOM or Electra for more info.

Team Members
Description: Unlimited openings for Azurite Sisters who will help collect support links and information for their teams, and help support sisters in similar circumstances.


The Utility Committee

Team Members
Description: The creation and maintenance of one or more utilities. Several utilities are open at this time and are looking for a good home!

The Secret Sisters Committee

Secret Angels
Description: Sisters who help out when a sister can't continue to participate for any reason, the Secret Angel takes over spoiling her assigned sis for the remainder of the round. These sisters are very important in helping make each round a fun one for each sister. The Secret Angels also get assigned at least one secret sis a piece to send cards too at least once or twice a week, just to make sure everyone is getting their fair share of being spoiled in each Secret Sister round.

Sisters of Support Committee

Ruby:
Description: Assist the Diamonds with record keeping & pagemaking tasks, among others. Must be a member of NSO and SOS for at least 3 months. (see Ruby rules)

Committee Members:
Description: Sisters of Support is in need of gift makers and guestbook signers. Our members make support pages, send get well cards, gifts, and sign guestbooks for our Sisters in need of support.

Social Butterflies Committee

Charms Team
The Charms team on the Social Butterfly Committee is looking for members to help us make the Social Charms Society fun for all Netsisters! The team members consists of charm makers and pixies (they endow charms), we create the monthly and holiday charms, plus sometimes contests and fun stuff too!

The Design Suite

The Design Suite is looking for graphics and html capable sisters to help us on various projects.

Logo Team
The Logo Team needs sisters to fill the requests for membership and committee logos. Knowledge of graphics and PSP or Photoshop is required.

Graphics Team
The Graphics Team needs sisters who enjoy making graphics sets for others. Knowledge of PSP or Photoshop, HTML and graphics is required.

Specialty Team
The Specialty Team needs sisters to make starter pages for people interested in joining Net Sisters Org who don't currently have web pages already. Knowledge of graphics, PSP or Photoshop, and HTML is requred.

Welcome Wagon

Big Sisters Team
We are looking for sisters who have been in NSO for at least three (3) months to help our new sisters. You'll be responsible for answering your little sisters questions about NSO, helping her get her logo, join committees, etc. For more information click on the apply button at left.

The Pagan Sisters

The Pagan Sisters (formerly the Wiccan Sisters) are looking for members to join! You can be Wiccan, into Goddess Spirituality, Druid, follow Native American Spirituality, Buddhist, etc... to join. We will create pages for sabbats and holidays, have online chats, etc... You don't have to have HTML experience but you have to be willing to participate.
Net Sisters © 1998-2001
by Diamonds Sisters - Webmistress
No unauthorized duplication of our graphics
Last Updated 26, January 2001
Graphics Courtesy of